Ex. Rare 1926 Old Town 48 display (salesman) sample canoe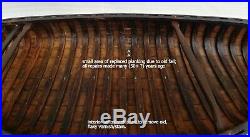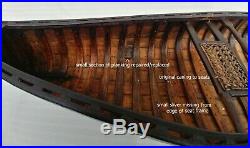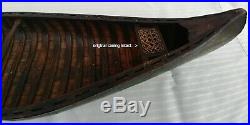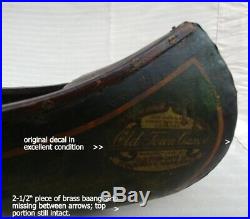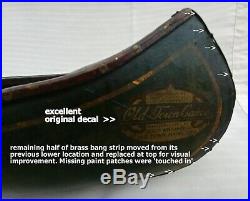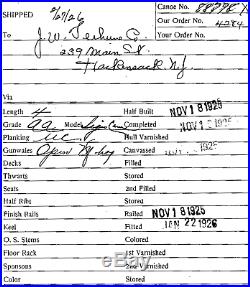 Time to find this piece a new home... Preserved, historic build records of the Old Town Canoe Co. It is also known that a small number of 48 samples were made prior to 1922, perhaps back almost to the companys start-up, around 1900. Very few were made after 1927 (none from 1955-90 according to company managers), although they can once again be special-ordered, today, through Island Falls Canoe Co.
Which makes them under contractual licence for Old Town. They were originally given as'premiums' only to the very biggest, high volume retail outlets in recognition of their sales; they were NOT handed out randomly to sales personnel, nor intended for that purpose. The samples made prior to 1922, and after 1927, were not logged into the build records. Very few of the 35 recorded samples (between 1922-27) even bear a serial number related to actual production.
That is the locale in which it was found about 50 years ago by a previous owner/collector. It is in largely original condition, though it did endure some obvious minor mishaps over the years, with consequent modest repairs (probably 60-70 years ago). The interior recently has been cleaned up, revealing some minor bits of replaced planking along with a 2 gunnel replacement. The original exterior is very slightly faded on one side due to sunlight exposure. Some very modest touch-up has been added to disguise wear and tear, bumps and scratches to the original dark green surface. Seats (original caning), thwarts, logos/decals and brand name lettering under the gunwales are all original and untouched. Very good used condition with a warm and pleasing sense of age. Comes with two period-appropriate sample paddles; whether or not these are also by Old Town is uncertain (possibly added later). Extensive research suggests that probably only 100 - 120 samples, in all, were made by Old Town Canoe Co. Over the years, including 35 to 40 of their larger 8 models. Thus, the samples were really used or meant as premiums to recognize favored customers, not routinely handed out to salesmen, though they are often called such. Was by far the greatest distributor/maker of display samples, which were also often referred to as sign canoes. By comparison, the Kennebec Canoe Co. Old Towns biggest competitor, built 60 recorded sample canoes of 63 to 69 in length ten of them in 1916, and 50 more between 1922 - 1926. The parallels in production/distribution are striking. By the mid-'30's, the use and distribution of'sample' canoes was largely discontinued - the Great Depression, followed by WWII and the later decline in popularity of full-size cedar-canvas canoes, all added to their demise. Today, few, authentic, antique, factory samples survive; however, there are numerous toys and other miniature pieces, many imported from offshore, which are offered with dubious claims.
Display samples were never generally available to the public. Most were distributed prior to the 1930s; the teens and twenties of a century ago were the hey-day for making, marketing and advertising with these miniature pieces. They were used in window displays or hung prominently in outfitter stores.
Given the relatively low production numbers, and disappearance through attrition, they are a scarce and much-sought-after collectible today. This piece comes from one of the finest, largest, established collections antiquemodelcanoes. Rare 1926 Old Town 48 display (salesman) sample canoe" is in sale since Monday, June 22, 2020. This item is in the category "Collectibles\Advertising\Merchandise & Memorabilia\Store Displays". The seller is "roger-y" and is located in Leesburg, Florida.
This item can be shipped to United States.