Rare Winchester 1950s 1960s vintage store display cabinet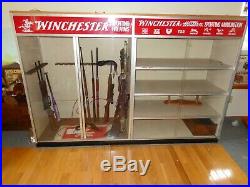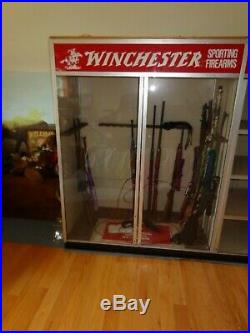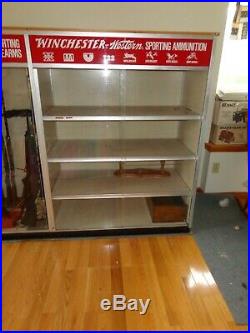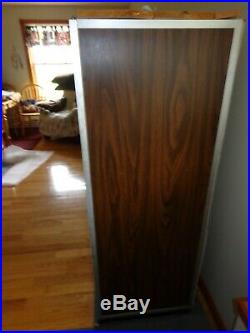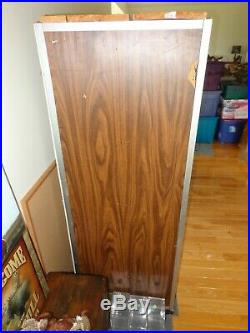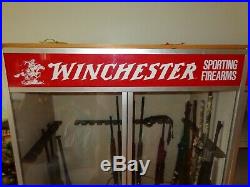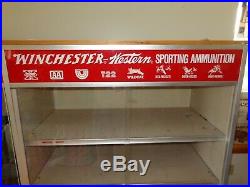 Please take the time to read our ENTIRE ad before making offers. Items that are on sale in our store, we will NOT discount anymore. If it is on sale in our store, it will NOT be marked down anymore.
E-Bay does not have an option to take the Make offer option down on a mass scale. When we have auctions sometimes we have up to 500 items on sale at a time so it's not feasible for our company to adjust 500 items for a sale that's going to last a week. I hope this clarifies any questions that may arise? Again, Please read our entire ad before making offers.
This is a fantastic display case which I have enjoyed for many years. My wife and I are going to probably downsize homes in the next few years and this probably isn't going to fit in a smaller home. The cabinet is 95 inches long, 62 inches high, 23 inches wide. On the left side it holds 24 guns and on the right side has four heavy-duty shelves for displaying ammunition, books or taxidermy. You must come to my location and disassemble the item and take it away.
It is too big and it must be taken apart to move it. The photos are ALSO PART of the DESCRIPTION of the item. We take high-resolution photographs please take the time to review them. NOTE our company is currently looking for somebody that has the technology to rebuild marbles tang sights and Lyman Tang Sights.
If you know anybody or are that person please let us know. Our company sells quite a broad range of product. All gun parts and pieces we sell on E-Bay we consider as used product.
I do not have a degree in metallurgy or have the ability to test to tell you how old this metal in this product is. This is why we take up close photos for your review.
For an example a large portion of our inventory after descriptions are written the item is Photoshop then packed wrapped sent to the warehouse. We do not unpack multiple boxes to take merchandise out and put in one box. But what we may do is take those packages/items that were in one package and put them in a bigger box.
NOTE this doesn't mean we accept payments over the next 30 days to pay for your item. We do not accept food stamps.
Not when you're Social Security disability check comes in. We are working on ways to get around this problem at this time.
The best case scenario we would be able to discount on items would be 10% off. There is no guarantees with that depending on what the items are.
Once again I don't have to remind you items on sale in our store are not marked down anymore. We find it extremely offensive. If you read our entire description it explains how much of a discount we can really give. We share our list and it is up to them whether or not they choose to block you as well.
Items that are on sale in our store we will not discount anymore than what the sale price is. If you have read this far thank you very much and you should understand by now exactly what this statement means. So please don't waste my time or your time coming in with some bizarre low ball offer.
So we have a entire team of individuals who look at related items that we sell. But please keep in mind you can't talk apples and oranges when making any type of comparison.
Someone got a good deal. You should've bought that one. The item had no blue left on it, didn't come with a set of screws, had damage for examples. We work very hard greeting and reading our items compared to other products out there and putting items in certain price ranges.
So first thing we actually have to decide if were going to accept the item back. We encourage you show them to your gunsmith prior to purchasing them. Everybody has their own ideas and this is why we take up close photos. Individuals who return product that is not what we sent them will be prosecuted. We will file police reports and if necessary take you to small claims court.
Our company works on a very small margin and can't afford to take any more losses than we already do in a course of a year sorry. Also for the most part when we get items, a description is written for the item. The item is Photoshopped, then the item is packed wrapped and sent to the warehouse. Because of this it is almost impossible for me to provide additional photographs or measurements of items listed. I apologize in advance for any inconveniences.
The item "Rare Winchester 1950s 1960s vintage store display cabinet" is in sale since Thursday, August 29, 2019. This item is in the category "Sporting Goods\Hunting\Vintage Hunting\Vintage Gun Parts". The seller is "aw_shucks_sporting_goods" and is located in Palermo, Maine. This item can't be shipped, the buyer must pick up the item.